BITZER SE OPENS NEW GREEN POINT IN ENGLAND
20.05.2016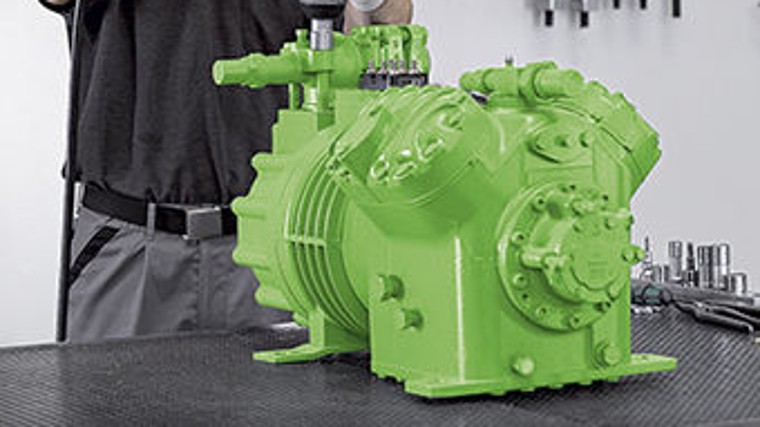 BITZER opened up the new 2,600-square-meter UK Green Point office in Bletchley near Milton Keynes at the end of April 2014 and is therefore now in a position to offer customers high-quality BITZER services, maintenance and training. Green Point UK features special testing systems which allow BITZER to precisely analyze compressor efficiency. In the future, Green Point UK will be able to service up to 1,800 reciprocating and screw compressors a year.
"The UK is one of BITZER's most important markets," explains Kevin Glass, Managing Director of Green Point UK and BITZER UK. "That's why it makes good sense to establish our comprehensive Green Point quality promise here too. After all, quality makes all the difference – both in terms of the product and the service. One of our most important resources is the high degree of experience that Green Point has gained all over the world since it was established in 2006. It's only through us that customers can be absolutely sure they're receiving BITZER's high-quality products."
But Green Point UK repairs both BITZER refrigeration compressors and those of other manufacturers. The office trains employees and customers to work with refrigeration and air conditioning systems, headed by General Manager Will Pribyl. "Following completion of the training course, the technicians can even replace compressor motors and valve plates," explains Pribyl. "We also provide plenty of practical tips on optimal operating conditions and share theoretical knowledge."
The strength of the Green Point network is based on close collaboration throughout the entire BITZER Group around the world. In this way, BITZER can ensure top quality standards and guarantee that environmental regulations are implemented all over the globe. The Green Point subsidiaries assume responsibility for the eco-friendly disposal of components and compressors on behalf of customers – which is part of the comprehensive Green Point service promise.
The three-level hierarchy of the Green Point Competence Centre in France, the six Master Green Point subsidiaries and the individual Green Points allows BITZER to optimally accompany the entire life cycle of its compressors and pressure vessels all over the world. The Green Point team has a great deal of experience with BITZER products and is well informed when it comes to the latest technological developments. That means customers can place their trust in comprehensive consultancy services and obtain compressors to meet their specific requirements.
BITZER opened up the new 2,600-square-meter UK Green Point office in Bletchley near Milton Keynes at the end of April 2014